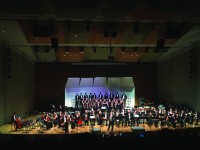 Peace themed holiday concert sells out University of Miami's Gusman Hall.
On Dec. 10 at University of Miami's Gusman Hall, the Prep music department held its annual Holiday Concert with the chorus, orchestra, symphonic band, and jazz band each performing a number of pieces centered around the theme of peace.
"We decided to perform songs about peace because all religions universally promote peace, so our repertoire is focused around this idea," said music director Ron Castonguay.
For the first half of the concert, the string ensemble, wind ensemble, and vocal ensemble performed, mainly playing pieces focused on peace. Following the theme, the two standout pieces of the night were "Let There Be Peace On Earth" and "Glow", performed by both the orchestra and the chorus. The orchestra also performed a piece called "Peace is Coming", an original composition by senior and ensemble vice president Alaz Sengul.
"When just the string ensemble plays 'Glow', it doesn't sound as nice, but when you add the piano and the chorus, there is a big difference and makes the piece sound more complete," said junior Shelby Martin.
After the intermission, the jazz ensemble took the stage, changing pace and performing more traditional Christmas tunes such as "White Christmas" and "Let it Snow! Let is Snow! Let it Snow!" The theme of peace was also the inspiration for the concert's poster artwork, designed by senior Joanne Park, which features a peace sign encompassing traditional paraphernalia from December holidays including Christmas, Hanukkah, Kwanzaa, and New Years.
"Seeing as Prince passed away this year, he was the inspiration for this year's artwork. Since Mr. Castonguay didn't name the concert as he has in the past and our theme was peace, we wanted to incorporate the ideas that Prince stood for in the  design," said Park.
The music department was also faced with a unique challenge this school year, as the incorporation of block scheduling required the ensembles to adapt to a new rehearsal schedule. With the alternating class schedule, the practice schedule lacks continuity. This time has been made up for by doubling after school sectionals and letting students know beforehand what material they will be tested on.
Considering the concert was sold out and packed with teachers, parents, students, and alumni, it seems that every ensemble has managed to successfully adapt the new schedule to their needs.