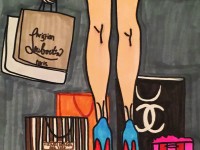 By Alexia Planos
Senior Alexia Planos explains how everyday shopping can turn into an overwhelming obsession.
I vividly remember the day my father gave me my own credit card the summer before freshman year.  He told me "use this only for emergencies" which lasted for about a year until I purchased my first outfit at Zara. I nervously called him to ask for permission, to which he said "it's no problem."  At that moment, I became addicted to shopping. I guess you could call me a shopaholic.
The addiction started sophomore year, and since then, I took it as permission for any future purchases. Of course when he would call and ask what I was buying and if I really needed it, I would reply with excuses like: "I needed an outfit to go out tonight…I lost weight…I need new pants and this shirt goes perfect with them… it was on sale and anyone would have bought it…I got A's on my report card…I deserve it…" Some of these excuses my fellow shopaholics would understand.
Personally, I prefer to shop in stores where I can try on clothes and see if they fit, but this doesn't stop me from checking the "what's new" section from online stores like Bloomingdales or Zara.  If you see me on my computer, I usually have a tab open to browse a clothing website.
I don't even purchase half of the items in my basket. It's like a game: try to put as many items in my cart and see how much everything would cost. After seeing the thousands of dollars it would cost, I start eliminating the unrealistic items like those new high-thigh boots released from Stuart Weitzman.
Math isn't particularly my favorite subject, but when it comes to calculating sales and discounts, I'm a pro. Shopping is the main cause of my procrastination and I'm sure many can relate.  With all the Christmas sales coming up, you can be sure to catch me at Dadeland Mall.