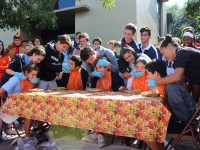 As friends stuff pie into each other's faces, a crowd of spectators watch and laugh at the sight of their fellow classmates attempting to eat an entire pumpkin pie without using their hands.
On Friday, Nov. 18 during Flex time, the Prep hosted its first ever pumpkin pie eating contest in the spirit of Thanksgiving. Students from all grade levels had the chance to compete, and there were five teams in total. Each team consisted of two people: one seated who was actually eating the pie, and one who stood behind the other, feeding their partner the pie with their hands.
"The student government wanted to plan a fun, school-wide event that had never been done before to celebrate Thanksgiving," said activities director Danielle Bowen.
The event was planned by members of student council in Bowen's Leadership Raider Seminar, as simply an enjoyable event, allowing all students interested  to participate.