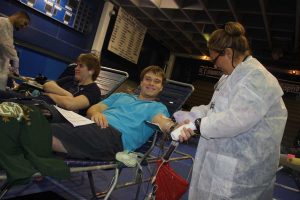 Health Interested Students of America (HISA) sponsored its first on-campus blood drive of the year on Nov. 17 in the gym. The blood collected is distributed to different hospitals throughout Palm Beach, Broward, Miami-Dade, and Monroe County, through the Community Blood Centers of South Florida, for patients in need of blood transfusions.
Many students, parents, and teachers donated a pint of blood each, a process that takes approximately 30 minutes. According to the Community Blood Centers of South Florida website, " about three gallons of blood supports the entire nation's blood needs for one minute." Just the one pint of blood that a person donates each time they give blood can save as many as three lives. The Community Blood Centers of South Florida serves over 45 hospitals, including Baptist Hospital and Miami Children's Hospital.
"It's great to see so many students willing to help others who truly need it and how so little can go so far. I think it is wonderful that HISA sponsors such a great event," said club President Alexis Dahan.
Students who participated in the blood drive, which lasted from 8 a.m. until 2 p.m., received community service for their help. Donors must be at least 16 years old and weigh over 100 pounds.
"The blood drive is something that only takes a little bit of time out of my day, but it can make a big difference in someone's life," said junior Connor Kuci.
The Community Blood Centers of South Florida operates 15 donor centers in addition to blood drives they hold at schools, hospitals, businesses, and other places using the their 50 bloodmobiles. The agency collects over 250,000 pints of blood each year, hoping to save hospital patients that need blood. According to their website, one in every ten hospital patients needs a blood transfusion.
HISA plans to sponsor another on-campus blood drive on Feb. 14.
"Blood is needed by people who suffer accidents and other diseases. We need to help them," said club co-sponsor Mrs. Margarita Morrell.