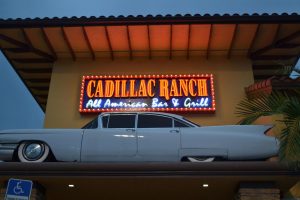 Bringing authentic, "All-American" cuisine to its customers, the rock 'n roll inspired Kendall-area restaurant Cadillac Ranch, offers a fun and lively atmosphere.
Opened this past July, Cadillac Ranch is located at The Palms at Town and Country, 11735 Sherry Lane. The franchise, which includes 12 locations nation-wide, was established in 2008 by two brothers who owned a construction company and decided to give the restaurant business a try. License plates from various states and several varieties of electric and acoustic guitars decorate the walls creating a casual, genuine ambiance. Different classic rock, modern rock and country songs play on the state of the art sound system, while five large plasma screen televisions and a ten-foot video wall cater to sports fans.
Toward the front of the restaurant sits a large ring specially designed for bull riding. The black and white mechanical bull attracts customers 18 years and older and provides great entertainment for the crowds gathered around the pit, as well as diners around the restaurant.
"I love working here, it's a fun atmosphere and it's always exciting," said manager Joyce  Miles.
Appetizers range from Seared Ahi Tuna to Cowboy Bite Burgers. The main menu features several burgers, different cuts of steak, a multitude of pizzas, pasta dishes, and more.  Four desserts are featured, including Cadillac Ranch's specialty, the "Caddy Brownie." There is something to please everybody on the menu, which has a small section dedicated to vegetarians as well as a menu for healthier choices, listing meals under 550 calories.  The food is reasonably priced, with prices ranging from $3.99 to $29.99.
The servers were attentive and happy to recommend their favorite and most popular dishes, committing orders to memory and always attending to the needs of the customers with a pleasant attitude.  The food was served in a quick manner, well cooked and nicely plated.
"The food was delicious and the waiter was nice, but I was disappointed that I could not ride the mechanical bull. Overall, it was a fun atmosphere and great experience. It wasn't tacky like so many other themed restaurants I've been to," said 17-year-old restaurant patron, Alex Pujol.
The restaurant's menu variety and creative ambiance set it apart from other area restaurants.  Cadillac Ranch is open seven days a week from 11 a.m. to midnight, Sunday through Tuesday, and 11:00am-4:00 a.m.